We're Here — Now What? 8 Things to Do in Panama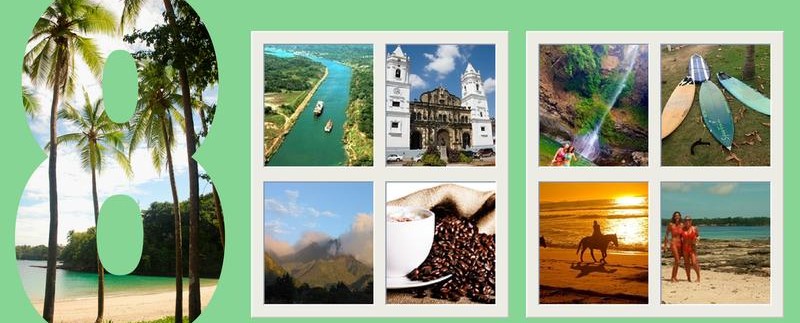 Whether you're a full-time resident, part-time resident, or visitor (and soon-to-become resident), you want to make the most of your time in Panama. There are things here that you Absolutely. Should. Not. Miss — no matter how long you plan to stay. Check out our top eight things to do in Panama. Which of these are on your list? What are WE missing? (Let us know, because we want to go see it ourselves!)
1. The Panama Canal. Come ON, people, admit it: this might have been the only thing you knew about Panama before you started thinking about coming here. You've got to see it in action! For $8 at the Miraflores Locks, you get full access to the museum, observation deck, and the 3-D movie. You'll pick up a variety of interesting facts in the museum — such as the most and least expensive tolls ever charged to go through the canal — and on the observation deck you can see the locks in action as the ships pass through. Very cool, and, engineers aside, it will make you glad you weren't the guy who had to come up with that!
2. Casco Viejo. Panama City's old town is so charming you'll hardly be able to stand it. Many of the old buildings are being renovated to create ultra-cool apartments. Check out the many awesome bars and restaurants, and buy the chocolate at Super Gourmet: you won't be sorry, unless you only buy one.
3. Boquete and Volcan Baru. Boquete is a cool, quiet mountain town full of friendly ex-pats, great restaurants, and lovely views. They have a fantastic community market on Tuesdays. It's a hiker's paradise, and the especially fit and adventurous can hike to the top of the volcano! Others, you can ride a Jeep most of the way up the volcano! Either way, the view from the top will reward your efforts.
4. Coffee Tour. Speaking of Boquete, this is one of the most interesting ways to spend your morning or afternoon. You'll appreciate your morning latte so much more after you understand the great journey every coffee bean has to take before it reaches your cup! Some of the best coffee in the world comes from Boquete, so the taste-testing part at the end is especially enjoyable.
5. El Valle. About an hour from Coronado, this little town features some nice hiking and a little zoo (El Nispero). They have a big market where you can find fruits and veggies as well as Panama souvenirs. Go over lunchtime and have the cashew encrusted corvina at La Casa de Lourdes. YUM!
6. Surf Lessons. Santa Catalina and Playa Venao have some fantastic breaks — in fact, surf competitions are regularly held on the Azuero Peninsula. Not far from Coronado, the Panama Surf School offers lessons in El Palmar, which has the area's best waves.
7. Horseback Riding. Sure, this is something you can do almost anywhere, but there's just something extra special about riding on the beach, isn't there? Many new housing developments are including equestrian centers, and there is already an equestrian club in Coronado. Giddyup!
8. Islands. Check out Bocas del Toro for the party scene, San Blas to visit the Guna indian tribe and experience their way of life, Contadora for some relaxation on stunning beaches (and to see the whales who hang out off the coast of Panama for several months every year), or Coiba to go scuba diving. Whatever your interest, there's an island paradise for you!
Want to Learn More About Panama?
Get Useful Updates
We send out content-rich weekly updates on new property listings and fun, helpful information about living in Panama.