Panama Property Tax Exemption Exoneration – it's NOT what you think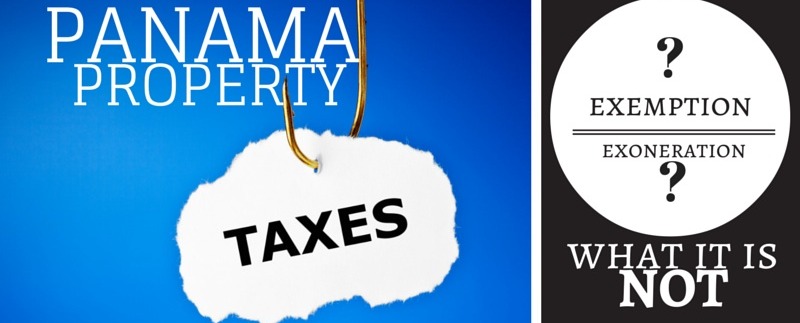 Panama Property Tax Exemption / Exoneration – it's NOT what you think
It is NOT automatic…
The Panama Property tax exemption doesn't magically happen – it has to be filed for at the MEF (Ministry of Economy and Finance) under the "finca" number for the property. A statement ("estado de cuenta") can be requested from this office. IF the exemption has never been filed for don't freak out – your attorney can help you straighten this out and file for the exemption.
It does NOT mean you pay ZERO taxes…
Unless you bought a parcel of land valued at $30,000 or less, you owe taxes from day 1. Buying a home (improvements on the land) means you pay taxes on the value of the land over $30,000. Buying a condo means you pay land taxes from day one on the amount of land "attributed" to your unit.
It does NOT mean you will get the same exemption as the current owner/developer…
This can get tricky, but basically speaking if you buy a house that qualified for an exemption (20 years, 15years, 10 years or 5 years) the exemption DOES transfer with the property. However, it only applies to the original registered value of the home. This means taxes will be owed on the amount over the registered value.
Clear as mud, right? Property tax exemption/exoneration must be fully understood BEFORE you purchase your property. Your trusted attorney should clearly outline what the tax implications are. Be certain you receive from your attorney
A copy of the statement from the MEF that confirms the exemption has been applied for.
The tax identification number from the DGI in order to pay your property taxes.
So what is the property tax structure in Panama, when are payments due and how do I pay them?
Panama Property Tax Term of Exemption
As of this writing the property tax maximum annual percentage is 2.10%. For properties that originally qualified for the 20 year tax exemption it applied no matter the value of the property itself. Currently, the exemption/exoneration term applies as follows based on property value:
15 years Up to US$ 100,000.00
10 years From US$ 100,000.00 to US$ 250,000.00
5 years Above US$ 250,000.00
Commercial Use/Non-residential improvements have 10 year exoneration no matter property value
Property Tax Rates
The first $30,000 of property value is exempt, then the following scale is followed:
US$ 30K to 50K – 1.75%
US$ 50K to 75K – 1.95%
US$ 75K and up – 2.10%
Property taxes cover the fiscal year that runs from July 1 to June 30. Taxes can be paid in three installments, namely by April 30th, August 31st, and December 31st.
Let's muddy the waters a bit more and give you a couple of examples:
Yay – you just bought a home from a lovely couple for $300,000 fully furnished. They were smart enough to apply for the exemption and you are lucky enough to have the 20 year tax exemption. Their registered value is $150,000, your trusted attorney wrote up the sale as $250,000 for improvements and $50,000 in furnishings. So here we go:
$250,000 – $150,000 (original exemption) = $100,000
$100,000 x 2.1% = $2100.00 /year
OR
Yay – you just bought a condo from a developer for $250,000 and they qualified under the new laws and the land value assessed is $10,000. You are tax exempt for 10 years so you only owe land taxes from day one:
$10,000 x 1.75% = $175 / year
After the exemption is up $250,000:

$50,000 x 1.75% = $875.00
$25,000 x 1.95% = $487.50
$175,000 x 2.10% = $3675.00
Total Tax = $5037.50 plus your land taxes of $175
Want to Learn More About Panama?
Get Useful Updates
We send out content-rich weekly updates on new property listings and fun, helpful information about living in Panama.