How can a U.S. citizen vote from Panama?

"Half of the American people have never read a newspaper. Half never voted for President. One hopes it is the same half."  – Gore Vidal
Thank goodness I am here to tell you that it's time to elect a new President of the United States! I mean scrolling through Facebook or browsing the internet certainly would not have clued you in. Clearly, I am a complete laugh riot in my own head! All silliness aside here is how you can vote from our little corner of paradise: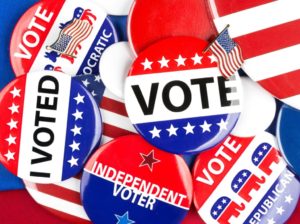 Log onto https://www.fvap.gov/ and identify your state of legal residency. This is muy importante since federal elections in the US are handled at the state level. This would be the last state in which you resided.
In the upper left corner, you will see "Voters start here" enter your state which will then lead you to how to register and request your ballot (based on state requirements) and the deadlines involved. Depending on your state you may be able to receive your ballot via email (lucky YOU), I filled the registration form out with the handy dandy FPCA online assistant  (there is also an option fill it out by hand), printed it, scanned it and emailed it to my local election official. If your state requires the form to be sent by snail mail you could be in trouble hustle on over to you favorite Mailboxes place and get it on its way! NOTE: you will also need to print out the envelope that has special info on it and tape it to your envelope.
Once registered you will receive your ballot via email or snail mail if your state does not allow electronic submission. Now fill out your ballot and make your voice heard!
I've made my selections – now what?
There are four options depending on your state laws:
Email – scan it and send it.  Use the cover page!
Fax.  Use a cover page!
If you are running late, but your state doesn't accept email or fax, head on over to your Mailboxes place and be prepared to pony up $$$.
Send it snail mail (if you have time). Take your security envelope to your local Panamanian Post Office and send it off to the US.  Be certain to send it certified mail, as that will allow you to track it within Panama. Alternatively, you can drop it off to the US Embassy in Panama and drop it off which will save you international postage. Details on dropping it off can be found here.  The deadline to drop off your ballot is October 26, 2016. If you prefer to mail your ballot to the embassy in Panama City put the ballot into the security envelope in another envelope and send it here:

American Embassy Panama
P.O. Box 0816-02561
Panama, Republic of Panama
WAAA – waited too long or didn't get your ballot?
You can use the Federal Write-In Absentee Ballot (FWAB). The FWAB is an emergency backup ballot. This backup ballot can be completed using the FWAB online assistant, by filling out the PDF or picking up a hard copy version from your nearest U.S. embassy or consulate.
Can't I just vote at the US Embassy? 
Nope.
The fine print: registering and voting in a federal election does not typically impact your taxes, but registering and voting in a state or local election could. Be certain to check with your tax professional.
Want to Learn More About Panama?
Get Useful Updates
We send out content-rich weekly updates on new property listings and fun, helpful information about living in Panama.