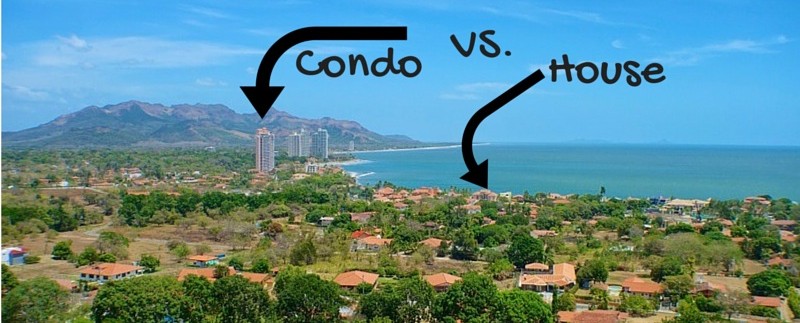 When you're buying your home, there are a couple of big questions you face right away. The first is "where?" The second is, "Should I get a house or condo in Panama?"
This is a matter of personal preference, and there are often people who wouldn't dream of bothering with one or the other. However, sometimes certified "house people" end up with a condo in Panama — and vice versa. Here are a few of the pros and cons of each living situation.
Houses
Houses have yards that require a lot of care.
If you're one of those people who loves that sort of work, perfect! If not, the good news is that it's fairly inexpensive to hire a full-time gardener in Panama. You get to enjoy your space and privacy without the hassle.
Your pets can run around and come and go as they please.
Just keep an eye out for ticks: they're fairly common in certain areas.
We enjoy a safe community, but that doesn't mean we don't lock our doors.
Owning a house could mean maintaining a security fence, bars on yours windows (it sounds alarming, but it's actually quite common in much of Central America), and an alarm system.
If it's a view you're after, this can be had from a house — if you choose the right location.
We have some beautiful homes listed at Altos del Maria (like this one!) that give you stunning views of the surrounding mountains. If you want an ocean view, be ready for a bigger price tag to buy a beach house, or you need to go up, up, up….
Condos
No fuss!
Shut the windows, lock the door, and take off for the weekend. When you return, the pool is still pristine. Some people think it's a bummer to share the pool with a building full of neighbors, but the truth of it is, you might very often be the only one there. It depends on the time of the year and even the day of the week as to whether the pool area is busy or not.
Many of the condo developments in this area have gyms.
You'd be able to use them if you were to own this condo, or this one. If a gym is important to you, consider that there is currently only one stand-alone gym in the beach area, and chances are you'll have to drive there. There are yoga and boot camp classes available around town, but if you like a treadmill or weight workout, having access to that gym right upstairs (or downstairs) might be worth it.
How does your pet do in a smaller space?
Depending on what kind of pet you have, living on the 20th floor could mean a lot of elevator rides up and down to let him or her out.
Lots of condos come furnished — but some don't.
I bought a naked condo and I love it, but I've got to tell you, you might not be aware there are a lot of extra considerations when it comes to buying a developer condo. Read more about that here.
Most complexes here have 24-hour security with a gate and a guard.
Some developments, like the Bahia, have key card access to the elevators and the beach.
If you want to live on the beach, a condo allows you to do that for a much smaller price tag than if you were to buy a house right on the beach (which don't come available that often, anyway).
And the view — you can't beat the view. If you're going to live this close to the water, you might as well enjoy it, right? Even a condo building that is inland will give you an ocean view if you're up high enough.
With all the considerations, it could be worth looking at a few of each before narrowing your search to one or the other. It would be a shame to move into your new house then visit new friends at their condo and say, "Wow, why didn't we look at this!?!"
Want to Learn More About Panama?
Get Useful Updates
We send out content-rich weekly updates on new property listings and fun, helpful information about living in Panama.