Mini-Vacation at Gamboa Rainforest Resort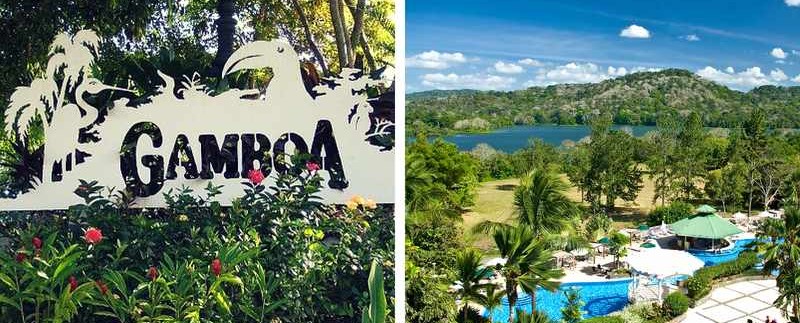 You would never believe that there is a tropical rainforest a mango's throw away  from the bustling, modern streets of Panama City. And in this jungle you'll find the perfect place from which to enjoy it: the outstanding Gamboa Rainforest Resort. (FYI, Panama is the ONLY capital city with a rainforest within the city limits! Concrete jungle and real jungle, all in one.)
Six friends, my husband, and I went to the resort for a mini-vacation. First, two important points:
1. You cannot imagine a BEST Sunday brunch than this one! Even a bit better. Made-to-order pasta, seafood and steak, more desserts than any one person should look at, and SUSHI, plus wine and champagne (included in the cost, and yes, I may have taken the host's advice to start early and stay late a little too seriously).
2. Hold on, I'm eating and ordering another glass of champagne.
If you can bring yourself to leave the table, there's a whole rainforesty world to explore. The resort offers several tours at various times throughout the day (so it makes it easy to fit them into your Brunch schedule). Prices range from about $25-80 per person, depending on which adventure you choose.
By Land
The Night Safari: Take a ride through the jungle after the sun goes down. Keep an eye out for sloths!
Chunga Chagres: This guided walk lasts about 30 minutes and takes you to the shore of the Chagres River. (You hop on a boat to come back, and that can be a good new!)
Radio Station Tour: A hike for hikers (it's more than an easy stroll), your guide will teach you about the military history of the area and how to survive in the jungle.
Birdwatching Tour: Panama is well-known for its abundance of birds. This is a MUST-do for anyone who loves to look at los pájaros. (Today's Spanish lesson is brought to you by My Panama Real Estate.)
By Sea
Guided Fishing Tour: Gatun Lake is full of peacock bass and other fish, so catch as many as you'd like!
Chagres River Boat Tour: Kick back and glide through the rainforest.
Kayak in the Panama Canal: If you like to be a little closer to the action, hop in a kayak and cruise the canal. Just stay out of the way of those really, really, really big ships.
By Air
Aerial Tram: Get a unique view of the rainforest and its inhabitants.
Gamboa Rainforest Resort can also arrange other trips for you. Meanwhile, lounge in the pool (if we're there, we'll recruit you for some water volleyball), or enjoy a drink at one of the bars or restaurants. Your room has a balcony, complete with a hammock overlooking the water, so you might not even want to leave. Unless it's Brunch time.
Want to Learn More About Panama?
Get Useful Updates
We send out content-rich weekly updates on new property listings and fun, helpful information about living in Panama.