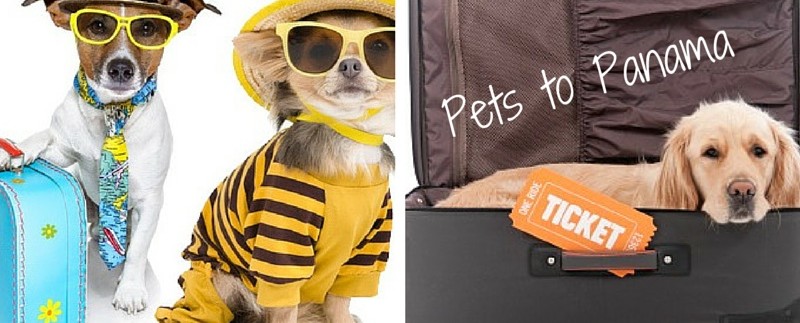 When you move to Panama with your family, that means the WHOLE family — both two-footed and four-footed members. Lots of people are bringing pets to Panama, and you can, too, as long as you follow some guidelines.
This outlines the steps you should take if you and your pet are from the United States. Please keep in mind that regulations do have a tendency to change and vary from country to country. I'm going to double (and probably triple) check all of this when it's time to move our dog, Ava Claire, down here, and I would suggest you do the same before showing up at the airport with Fido or Fluffy.
Panama allows you to Home Quarantine your pet, rather than having to quarantine the poor little guy upon arrival.
This requires you to keep your pet home for 40 days prior to departure. You must request this at least two weeks before your trip from the Panama Ministry of Health. You can download the form from their website — and practice your Spanish! You'll need to know your flight information, pet information, your name and passport number, and how long the animal will be in Panama. This costs $130. If you don't take this route, your pet will have to stay in quarantine for 40 days in Panama: stressful for him, and quite a bit more expensive for you.
Obtain health and vaccination certificates from a veterinarian.
These must be certified by the USDA. The rabies vaccination must be received no less than 30 days and no more than a year before departure. Get the certificate and save your receipt. The health exam and any additional vaccinations must be completed within 10 days of travel. Don't procrastinate, because there's more to do!
If you don't already have it, you'll also need to get a certificate of origin from the vet.
You have to be able to prove where the animal was born.
The documents must be authenticated by a Panamanian consulate in the US or apostiled by the US government.
Overnight mail! Don't be afraid to call and follow up to make sure they received them and everything is in order. You're working within a short time frame!
Make several copies of each document and take them with you.
Better safe than sorry!
Check with your airline on regulations for pets.
Small pets can go under the seat in an approved carrier while larger pets will have to go as cargo. Each airline has different fees and rules, so get familiar with yours. Keep in mind that some airlines only allow a certain number of pets on board each flight, so be sure to let them know your are traveling with a furry loved one.
Arrive early for check-in and have all your papers ready.
When you get to Panama, go through customs like normal.
Then go to the Agriculture Office and pay the $16 import fee. After that, you will take your pet and all documents to be inspected by a veterinarian. Keep in mind that there are official hours for this: Monday-Friday, 9:00am-3:00pm  and 7:00pm-11:00pm. If your flight arrives outside of those time frames, you will need to make special arrangements with the Ministry of Health or the Ministry of Agriculture to have a vet meet you, for which there will be an additional fee. If you don't do that, your pet will have to hang out at the airport until a vet comes on duty.
Once approved, you're clear to take your pet to your new Panama home!
Want to Learn More About Panama?
Get Useful Updates
We send out content-rich weekly updates on new property listings and fun, helpful information about living in Panama.